Comments from our customers (guests)
Guest Comments on our Tours
"Thankyou so much for the wonderful day. A special treat at the last minute which turned out to be a delight. We would not have had the chance to see the beautiful Trossachs without your assistance. Thanks again and hope to see you for a trip to St Andrews" Linda Calm.
"Many thanks for a wonderful tour of Caerlavarock Castle (Dumfries & Galloway). Very attentive service; you made sure we were well taken care of and that all our questions were answered Thanks also for providing some informative facts on the decor. on our way there, and especially for arranging a talk by a Caerlavarock curator We would recommend your tours to anyone coming to Scotland, and would definately call you again if we return"
Mike Humphries "Many thanks for a wonderful time.We are taking back memories for years to come. Having had a "taste" we may be back before you know it! If ever you are in Alberta, let us know, we would be pleased to show you around.All the best to you and your family"
Edmonton
"Thankyou for an amazing 5 days We have seen everything we could have wanted & asked for, plus many extras you found for us. Exactly what we have been dreaming of......... We also appreciated the extra information you gave us, and the ad hoc changes in plan that we came up with from time to time" John Carrier
"A nice and excellent day enjoyed with Adrian helping us from one end of Scotland to another. From St. Andrews to Trossachs and Loch Katrine. A wonderful experience for the entire family in the very able company of Adrian. Last but not the least enjoy with "Hamish" (a Highland cow)" Raymond Sola
"Very nice driver/guide, well travelled, courteous and knowledgable about Scotland" - Benfleet, Essex, UK.
"It was a fabulous day. I enjoyed the drive, the scenery, the company. Looking forward to Thursdays trip" Christine Smith
"Thankyou for getting a quart out of a pint pot !Saw everything we wanted to and more. Wished we had more time. Also well organised, with good weather" Michael & Gill Moot
"Adrian, Thankyou for a fantastic day.Glasgow is a beautiful welcoming city that I enjoyed so much more because of your knowledge, conversation, and your weird wonderful humour. Please come visit Chicago again, and don`t hesitate to call" Jann Chicago
"We have had a great time here with you Adrian, you have been so helpful for us. We love you !...We did the right decision and booked you for these great days. We have been seeing so much more than we thought. We wouldn`t find it ourselves. Just as we liked it...Thanks for such a wonderful trip.Hope we see you again...It has been perfect, 2 great days. Thank you very much" Sam Helsingborg
"Thanks for a delighful tour thru` the places of my ancestors-an opportunity to do something I would otherwise have missed"
"We had a wonderful time, thankyou so much Adrian. After 6 days together we still like each other !... Great castles, history, etc. We saw and did so much more than ever we would have been able to manage on our own, plus got lots of tidbits of info. from Adrian. A wondeful trip" PF Biglerville,
"Thankyou for a wonderful day. A very professional and helpful guide. The only thing which could of improved was the weather. Out of Adrian`s control ! Thanks again !" RD and family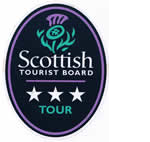 All Around Scotland: Edinburgh Perth and Dundee Montrose, Arbroath Isle Of Skye Wester Ross Sutherland & Dornoch Firth Thurso, Wick & Caithness Orkney Shetland Outer Hebrides Banff & Buchan Lower Speyside Aberdeen & Stonehaven Ballater & Banchory Aviemore & Cairngorms Loch Ness & Inverness C. Grampian Highlands Ben Nevis & reat Glen Glasgow Loch Lomond & Trossachs Argyll, Dunoon & Oban Kintyre, Arran & Bute Southern Inner Hebrides Lothian Galloway Nithsdale & Galloway Hills Annandale & Eskdale Teviotdale & Lauderdale Ayr & Kilmarnock Clydebank, Cumnock, Lowthers West Lothian
Scottish Culture: Gaelic First Names Gaelic/English Scottish Humor Books About Scotland Scottish Quotes & Sayings Proverbs In Scots Scottish Folk Tales Scottish Literary Timeline The Witches Of Forfar The Loch Ness Monster Scottish Castle Stories Scottish Hauntings Scottish Faeries More Scottish Hauntings Scottish Inventions Scottish Highland Games.
Scottish History: Notable Dates Story Of Robert The Bruce Story Of William Wallace Trial Of William Wallace Wars Of Independence Highland Clearances Story of Rob Roy Mary Queen Of Scots
Activity point is but more a glimpse and celebration of the waves and culture of surfing around the Scottish and Irish coastlines. Every section uses photos and text to give you a feel for the area plus display links in relation to their geographical locations (which anyone can add to). So basically if you're interested in surfing in Yorkshire head to that section of our site and get all the info you need in one fell swoop. see surfing
Our passion for, and knowledge of, Scotland makes Scotland for Ever ideally suited to give YOU your very own unique experience of our beautiful country. Activity point - Scotland Activities, attractions and places to visit in Scotland, united kingdom. over 1400 ideas for days out, keeping active or keeping the kids amused.