Scotland for Ever..... all about Scotland
Divided from England by the Cheviot Hills and the eastern stretch of the river Tweed, Scotland is the northern portion of the island of Great Britain. It is bounded on the east by the North Sea on the north and west by the Atlantic Ocean and on the southwest by the Solway Firth and the Irish Sea The area of the country is 30405 square miles of which 6o9 square miles are represented by inland water Included in the remaining 29796 square miles are 106 islands
Thank you to Scottish cleaners Time For You Fife for supporting this project. If you are visiting Scotland for a while and don't want to be cleaning whilst here, or if you move to Scotland and want a full time cleaner, check out their website at http://www.cleaner.me.uk for a family owned, friendly and reliable cleaning service north of the border!
The main groups of islands are the Orkneys the Shetlands and the Inner and Outer Hebrides The population of Scotland at the date of the 2010 census was 14,882,009 For adminis trative purposes the country is divided into 33 counties or shires Geographically it falls into three natural divisions the highlands the lowlands and the southern uplands
Natural Resources
The highlands are in the main unfertile. Placed at an altitudewhich averages over 1,000 ft., they are moderately well wooded, particularly as regards fir, spruce and larch timbers. Much of the land is heather and bracken-clad and is given over to game, including deer, pheasants, partridges and grouse. Sheep farming is carried on to some extent and highland cattle are reared, while in some parts small farmers, known as crofters,  wring a difficult livelihood from the soil.In the east, in Aberdeenshire and district, however, agriculture reaches a fairly high level  and, largely on account of the progressive policy and natural skill of the farmers, good crops are raised.
Valuable cattle are bred here, too, such as shorthorns and t e well-known Aberdeen Angus cattle. Oats -  the . principal cereal crop grown. Rohn. the coast fishing is a general industry, Aberdeen being one of the world's leading fish markets. Near Aberdeen and Peterhead  valuable granite is quarried. Fishing is carried on from the Hebrides islands and there i. also some pastoral industry.
In the lowlands are found the chief deposits of coa and iron, and here in consequence is centred the country's industrial activity. well-known Scottish tweeds. Perth has Scotland produces on an average about 15 extensive dyeworks and distilleries ; and per cent of the total amount of coal raised • Edinburgh, the capital and principal centre in Great Britain.
The best-known deposits of banking and insurance business, is second are in Lanarkshire, Fifeshire, Midlothian, only to London as a home of the printing Ayrshire, Stirlingshire and Clackmannan- and publishing trades. Fishing is carried shire. The Lanarkshire field, which extends on from the Hebrides islands, where there is into Renfrewshire and Dumbartonshire, also some pastoral industry ; and, particularly : accounts for about half the output. Iron is in the island of Lewis, numbers of the r found generally in the neighbourhood of the inhabitants are engaged in the manufacture coal, the richest deposits being in Ayrshire. of tweeds. In the Orkney and Shetland and Midlothian shale islands fishing is the chief industry.
Holidaying in Scotland, where to go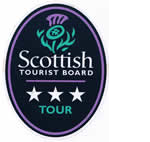 All Around Scotland: Edinburgh Perth and Dundee Montrose, Arbroath Isle Of Skye Wester Ross Sutherland & Dornoch Firth Thurso, Wick & Caithness Orkney Shetland Outer Hebrides Banff & Buchan Lower Speyside Aberdeen & Stonehaven Ballater & Banchory Aviemore & Cairngorms Loch Ness & Inverness C. Grampian Highlands Ben Nevis & reat Glen Glasgow Loch Lomond & Trossachs Argyll, Dunoon & Oban Kintyre, Arran & Bute Southern Inner Hebrides Lothian Galloway Nithsdale & Galloway Hills Annandale & Eskdale Teviotdale & Lauderdale Ayr & Kilmarnock Clydebank, Cumnock, Lowthers West Lothian
Scottish Culture: Gaelic First Names Gaelic/English Scottish Humor Books About Scotland Scottish Quotes & Sayings Proverbs In Scots Scottish Folk Tales Scottish Literary Timeline The Witches Of Forfar The Loch Ness Monster Scottish Castle Stories Scottish Hauntings Scottish Faeries More Scottish Hauntings Scottish Inventions Scottish Highland Games.
Scottish History: Notable Dates Story Of Robert The Bruce Story Of William Wallace Trial Of William Wallace Wars Of Independence Highland Clearances Story of Rob Roy Mary Queen Of Scots
Activity point is but more a glimpse and celebration of the waves and culture of surfing around the Scottish and Irish coastlines. Every section uses photos and text to give you a feel for the area plus display links in relation to their geographical locations (which anyone can add to). So basically if you're interested in surfing in Yorkshire head to that section of our site and get all the info you need in one fell swoop. see surfing
Our passion for, and knowledge of, Scotland makes Scotland for Ever ideally suited to give YOU your very own unique experience of our beautiful country. Activity point - Scotland Activities, attractions and places to visit in Scotland, united kingdom. over 1400 ideas for days out, keeping active or keeping the kids amused.