Scottish Tours
Escorted Bespoke Tours
You'd be surprised where you can go and how much you can do in a day on a bespoke escorted tour with Scotland for Ever . Looking for a special tour? Ask us! Remember, you can book a tour for more than one day… We can do 2/3 day tours with overnight stops, or, if you want to explore locally, we can pick you up each morning and drop you off at night.
Our escorted personalised tours let you design your tour to your tastes. When you want to 'see the sights', think how convenient it will be when you don't need to wait for buses or taxis. And you won't need to worry about getting lost either. On a coach tour, you'd have to go where and when the tour dictates. But with Scotland for Ever, if you feel like a cup of tea or an early lunch, then you just do it. If you feel like a "wee rest" just for the sake of it, then we can do that too. No stress about the bus leaving without you, or feeling guilty about keeping other people back.
In the summer, one of the best ways to experience the full beauty and glory of Scotland and the Scottish countryside is in a caravan. You can explore our beautiful scenary - from the highest peak to the deepest loch - in your own time, sleep in the heart of our beautiful countryside, go where you want when you want without having to stick to any schedule, and visit the most remote, peaceful areas of our great Scottish nation. Caravans have improved dramatically from what they used to be - take a look at http://www.granthamcaravans.co.uk/ and see what a wide range there is now, how nice the furnishings are, how spacious they can be and how many luxurious mod cons they have. It can be like towing your house around Scotland, seeing spectacular views all day, and then settling down in the privacy and comfort of your own caravan in the evening with a glass of malt looking over a loch and some mountains. What a perfect holiday!
If you've planned a trip to Inverness and you decide you'd rather stay in Fort Augustus and watch the boats going through the locks, or sit on the banks of Loch Ness and keep an eye out for 'Nessie', it's your choice.
You might decide you'd rather explore the largely undiscovered south-west of Scotland with its wonderful coastline, its fabulous forests, its hills and its lochs. We can spend time in the "book town" of Wigton, or the "food town" of Castle Douglas.
When you travel with Scotland for Ever, we take you where YOU want to go.
Fed up with fancy food? We know where to find the tastiest fish & chips wrapped in newspaper, the best 'afternoon teas', and the creamiest ice-cream in Scotland. Want to take a tour over the Border into England? We can do that too - in a day. If you're historically minded, we might explore the fascinating remains of the Roman Empire at Housesteads. Prefer the scenic approach? We can meander leisurely with a tour around the Lake District. It's your trip: take your pick …
To maximise your precious time, your tour escort will be on hand throughout your unforgettable personalised tour. If you want to spend some time exploring on your own, we can make that happen "nae bother at all".
Scotland for Ever will pick you up and take you 'home' when you're ready. It's your day, spend it your way.

Here at the Scottish Tourism website we hope to increase awareness of all that Scotland has to offer. Travellers looking for the best in arts, culture, natural beauty, history and activities, need look no than the country of Scotland, which offers all this and so much more. Scotland is a popular destination, for example, with hill walkers from all over the world because of its unmatched scenery and stunning landscapes.

There is also a world class cultural scene with events such as the Edinburgh Fringe comedy festival being held each year. Send us an email and let us know what you think about our Scottish Tourism site.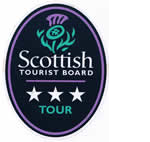 All Around Scotland: Edinburgh Perth and Dundee Montrose, Arbroath Isle Of Skye Wester Ross Sutherland & Dornoch Firth Thurso, Wick & Caithness Orkney Shetland Outer Hebrides Banff & Buchan Lower Speyside Aberdeen & Stonehaven Ballater & Banchory Aviemore & Cairngorms Loch Ness & Inverness C. Grampian Highlands Ben Nevis & reat Glen Glasgow Loch Lomond & Trossachs Argyll, Dunoon & Oban Kintyre, Arran & Bute Southern Inner Hebrides Lothian Galloway Nithsdale & Galloway Hills Annandale & Eskdale Teviotdale & Lauderdale Ayr & Kilmarnock Clydebank, Cumnock, Lowthers West Lothian
Scottish Culture: Gaelic First Names Gaelic/English Scottish Humor Books About Scotland Scottish Quotes & Sayings Proverbs In Scots Scottish Folk Tales Scottish Literary Timeline The Witches Of Forfar The Loch Ness Monster Scottish Castle Stories Scottish Hauntings Scottish Faeries More Scottish Hauntings Scottish Inventions Scottish Highland Games.
Scottish History: Notable Dates Story Of Robert The Bruce Story Of William Wallace Trial Of William Wallace Wars Of Independence Highland Clearances Story of Rob Roy Mary Queen Of Scots
Activity point is but more a glimpse and celebration of the waves and culture of surfing around the Scottish and Irish coastlines. Every section uses photos and text to give you a feel for the area plus display links in relation to their geographical locations (which anyone can add to). So basically if you're interested in surfing in Yorkshire head to that section of our site and get all the info you need in one fell swoop. see surfing
Our passion for, and knowledge of, Scotland makes Scotland for Ever ideally suited to give YOU your very own unique experience of our beautiful country. Activity point - Scotland Activities, attractions and places to visit in Scotland, united kingdom. over 1400 ideas for days out, keeping active or keeping the kids amused.